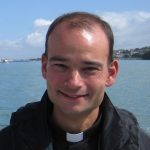 Dear registrants of the CNMC 2015,
Due to unforeseen parish duties I am unable to come to Atlanta this weekend for this year's Catholic New Media Conference.
As you might know, I work in a very large parish with 6 churches. For a long time, I had counted on being freed up for the CNMC. Due to circumstances beyond my control, I have been scheduled for liturgical duties during the weekend, including a First Communion Mass on Sunday. Because of the lack of priests in my diocese, it has not been possible to find someone to replace me.
I am deeply saddened by this turn of events. I know that many of you were looking forward to meeting me in Atlanta. The same is true for me. The community around these events is very dear to me, and many of you have become good friends.
I trust that the rest of the speakers, podcasters and community members will still have a great experience of friendship, learning and exchange. I will follow the event as much as I can via social media. I hope to see many of you in person at a future occasion. Please pray with me for a successful CNMC and for priestly vocations in the Netherlands.
We need missionaries in our parishes as well as in the media. Our prayer may help new people to hear God's call and to answer it enthusiastically.
Even when I'm not there in person this year, you will all be in my heart and in my prayers!
Fr. Roderick.