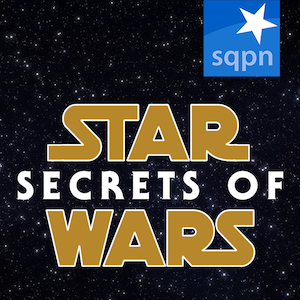 The Secrets of Star Wars is a fan podcast all about everything to do with Star Wars, including all of the movies, TV shows, streaming series, books, comic books, fan culture and more. The show looks at both the new creations as they are released as well as the existing library of Star Wars, going beyond the surface to look at the deeper layers and themes, while never forgetting how cool lightsabers are. Join your host
Fr. Andrew "Father Fett" Kinstetter
as well as
Mike Creavey
,
Andrew Hermiz
, Thomas Sanjurjo, and
Angela Sealana
for a weekly celebration of all things Star Wars.
Send us your feedback at [email protected] and visit us at the StarQuest Media Facebook page.
Here's how to listen or subscribe to the podcast.
(Don't worry: It doesn't cost anything to subscribe.)
Purchase Star Wars TV series, movies, and related books discussed on Secrets of Star Wars at the Secrets of Star Wars Bookstore. Your purchases support the work of SQPN and ensure future episodes of the Secrets of Star Wars.